Al via il Web Summit, il "Davos dei Geek"
Commenti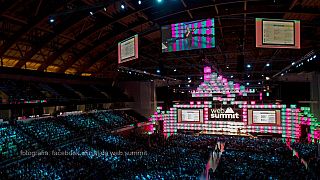 Benvenuti a Lisbona per il Web Summit, dove tutti i vostri sogni digitali prima o poi diventano realtà. Considerato uno dei maggiori eventi mondiali sulle nuove tecnologie, il Web Summit quest'anno ospita 60 mila partecipanti provenienti da oltre 170 paesi. Per fare cosa?
"Incontrare nuova gente, fare networking e imparare dai migliori", risponde una giovane partecipante.
Un imprenditore spiega: "Lavoriamo nel settore del digitale. Per noi è molto importante venire qui per imparare quali sono le novità, che cosa ci aspetta nel campo del digitale e dell'innovazione".
Talks and roundtable discussions in full swing at the beautiful Convento do Beato along the river Tagus for Venture_conf</a> at <a href="https://twitter.com/hashtag/WebSummit?src=hash&ref_src=twsrc%5Etfw">#WebSummit</a> ? <a href="https://t.co/jSLQj2fTx2">pic.twitter.com/jSLQj2fTx2</a></p>— Web Summit (WebSummit) 6 novembre 2017
Dal 2010, quando è stato fondato da tre amici irlandesi, il Web Summit si è trasformato da evento di poche centinaia di persone a "Davos dei Geek", come l'ha definito l'agenzia Bloomberg. Quest'edizione – che fra gli oltre 1.200 conferenzieri include persone del calibro di Al Gore o Antonio Guterres – si svolge all'Altice Arena di Lisbona fino a giovedì 9 novembre.