Referendum in Catalogna: Spagna divisa
Commenti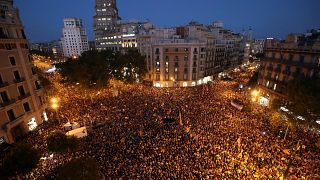 Un braccio di ferro sempre più teso quello tra le autorità spagnole e la Catalogna ad una decina di giorni dal referendum sull'indipendenza convocato per il primo ottobre. Dopo il blitz della polizia spagnola che ha arrestato 14 funzionari del governo catalano, in centinaia hanno manifestato a Barcellona. Il governo di Madrid ribadisce il no alla consultazione popolare :
Marian Rajoy, premier spagnolo:
"La tragressione della legge da parte di un'istituzione è contro la democrazia. Il referendum è una chimera impossibile o una scusa che rende più profonda la frattura all'interno della società catalana" .
Protestors gather in Barcelona after Spanish police raid govt offices to block a referendum on the independence of the Catalan region. pic.twitter.com/FC2htpqmyJ

— AJ+ (@ajplus) 20 settembre 2017
Anche Madrid sostiene la causa del referendum. Circa mille persone hanno partecipato ad un marcia di solidarietà nella centro della città. La polizia è dovuta intervenire nella capitale spagnola, quando a manifestare in senso contrario sono scesi in piazza alcuni gruppi di estrema destra a favore invece dell'unità del paese.