Uragano Harvey ''evento senza precedenti'', almeno 5 morti
Commenti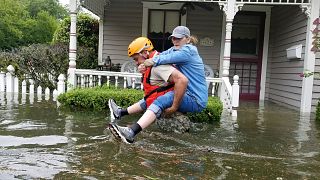 Un "evento senza precedenti, i cui effetti sono sconosciuti e vanno oltre qualsiasi cosa sperimentata". Così è stato definito dal servizio meteo federale statunitense l'uragano Harvey, che sta devastando il Texas. Sarebbero almeno 5 le vittime e oltre 12 feriti. Nonostante l'uragano sia stato declassato a tempesta tropicale, le piogge dureranno ancora giorni e potrebbero addirittura raggiungere i 127 cm, il livello più alto mai registrato nello Stato.
This image and the forecast of what is still to fall…. This is surreal. #HoustonFlood#Harveypic.twitter.com/zK9WojsMAH

— Matthew Sitkowski (@MattSitkowski) 27 agosto 2017
"Sicuramente non c'era modo di prevedere la quantità di pioggia che sarebbe caduta e le zone stagnanti che si sarebbero formate. Ma voglio assicurare le persone che stiamo facendo il possibile per aiutarvi. Aiutiamoci insieme'', ha dichiarato in conferenza stampa il capo della polizia di Houston, Art Acevedo.
Mentre alcune città sono in corso d'evacuazione, proseguono le operazioni di soccorso. Sono numerose le richieste d'aiuto delle persone rimaste intrappolate nelle proprie abitazioni giunte alle autorità, che suggeriscono di salire sui tetti per rendersi visibili agli elicotteri.
Allen Parkway, Memorial, Waugh overpass, Spotts park and Buffalo Bayou park completely under water. #houston#harveypic.twitter.com/odRepbLT71

— Rabbi Cohanski (@aaroncohan) 27 agosto 2017