Turchia, referendum: è iniziato il voto per i cittadini residenti all'estero
Commenti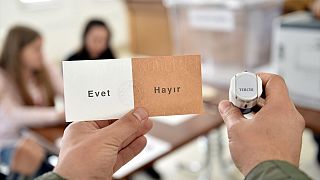 Sono circa tre milioni i cittadini turchi residenti all'estero che hanno diritto di voto nel referendum del 16 aprile sull'introduzione del presidenzialismo in Turchia. Si vota in 57 paesi, fino a domani 9 aprile. In caso di approvazione la riforma costituzionale assegna più poteri al presidente Erdogan che in questo modo, diventerebbe anche capo dell'esecutivo. Tra questi: la nomina dei ministri e lo scioglimento del parlamento.
Days to April 16 #Turkeyreferendum, posters in east Amsterdam telling #Turkish citizens how to vote abroad (clear which way this shop leans) pic.twitter.com/rhGRvuqZpb

— Vanessa H. Larson (@vanessahlarson) 8 aprile 2017
La riforma costituzionale è stata ampiamenmte contestata soprattutto all'estero. In Germania dove vive il maggior numero di cittadini turchi, il governo di Berlino ha di recente impedito l'organizzazione di comizi da parte dei politici di Ankara, a favore della riforma.