L'Unione europea si prepara alla Brexit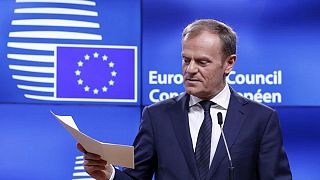 L'Unione europea si prepara a negoziare la Brexit.
Il presidente del Consiglio Europeo oggi presenterà una prima bozza di linee guida e le posizioni che l'UE adotterà durante i colloqui. L'obiettivo delle proposte di Donald Tusk è quello di preparare il vertice europeo del 29 aprile. A quella data i restanti Stati membri definiranno le linee rosse da non superare nei negoziati.
Al congresso della destra europea ieri a Malta, il Presidente della Commissione europea ha ricordato che la Brexit non è la fine dell'Unione Europea. Juncker ha anche preso in giro, senza nominarlo, il presidente degli Stati Uniti.
I ministri degli Esteri della NATO si incontreranno oggi a Bruxelles. Gli alleati incontrano formalmente per la prima volta il segretario di Stato Usa, Rex Tillerson. La situazione in Ucraina sarà all'ordine del giorno.
Ieri gli ambasciatori dell'Alleanza hanno incontrato i loro omologhi russi. Hanno di nuovo denunciato l'atteggiamento di Mosca nel conflitto ucraino, come ha spiegato il Segretario generale della NATO, Jens Stoltenberg.
A partire da questa sera potete ritrovare il programma settimanale di analisi europea: State of the Union.