L'ultimo saluto a Martin McGuinness
Commenti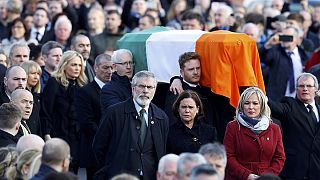 Strade affollate a Derry per l'ultimo saluto a Martin McGuinness ex leader dell'Ira ed ex vice premier dell'Irlanda del Nord. Presenti gli amici dello Sinn Fein, e Michelle O'Neill, l'attuale leader del partito repubblicano.
"I fought, I made peace, I made politics." Bill Clinton delivers the eulogy at the funeral of Martin McGuinness. pic.twitter.com/5gp0dEYVY8

— Channel 4 News (@Channel4News) 23 marzo 2017
Il feretro avvolto da una bandiera è stato accompagnato dal suono della fanfara. McGuiness, figura trasversale tra la guerra e la pace, dopo aver abbandonato la lotta armata, ha assunto un ruolo centrale nel processo di pace in Irlanda del Nord con la firma dell'"Accordo del Venerdi' Santo".
Political figures from both sides among thousands lining streets for Martin McGuinness funeral https://t.co/CkBz4XCu6U

— The Independent (@Independent) 23 marzo 2017
Scomparso a 66 anni, l'uomo soffriva da tempo di problemi di cuore. Lo scorso gennaio a causa delle difficili condizioni di salute, aveva deciso di abbandonare la carriera politica.