Pulse of Europe, 20.000 manifestanti in Germania per sostenere l'Europa unita
Commenti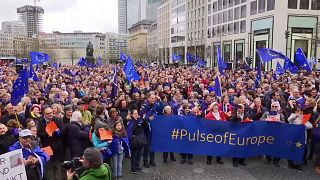 Il movimento per l'Europa unita "Pulse of Europe" riprende vigore. Galvanizzato dalla mancata vittoria dei nazionalisti di Geert Wilders nei Paesi Bassi, il movimento nato a Francoforte, in Germania, ha riunito oltre 20.000 persone in tutto il Paese, scese in strada per sostenere il progetto europeo.
Manifestazioni analoghe si sono svolte in tutte le principali città della Germania: tra i 2.000 e i 4.000 manifestanti a Berlino; 3.500 a Francoforte; 2.500 a Colonia.
Secondo il fondatore di "Pulse of Europe" Daniel Roeder, di fronte alla Brexit e alla vittoria di Donald Trump negli Stati Uniti, è necessario mantenere la mobilitazione nell'anno in cui molti Paesi dell'Unione si accingono ad affrontare elezioni di cruciale importanza.