Le ambizioni economico-commerciali del Canada
Commenti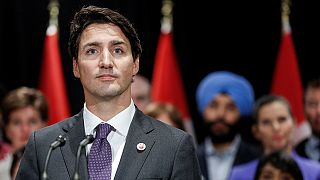 Il Canada continuerà a perseguire gli accordi commerciali in tutto il mondo. La conferma arriva dal primo ministro Justin Trudeau che ha voluto anche sottolineare l'impegno del governo per garantire a tutti i cittadini canadesi maggiori benefici come gli aumenti dei salari in un momento molto delicato per l'economia in generale.
"Milioni di posti di lavoro della classe media, specie nelle zone di confine, dipendono dalla stretta relazione commerciale che abbiamo stabilito con gli USA e che è stata al centro di tutte le nostre discussioni", ha ribadito Trudeau.
Discussing Canada-US relations this morning with blackstone</a>'s Steve Schwarzman – our thanks for the meeting. <a href="https://t.co/JVHnSye2it">pic.twitter.com/JVHnSye2it</a></p>&mdash; Justin Trudeau (JustinTrudeau) 23 gennaio 2017
Il premier non si è tuttavia sbilanciato su un punto fondamentale ovvero se il Paese intende portare avanti il partenariato transatlantico dopo il disimpegno dal Tpp degli Stati Uniti voluto da Donald Trump che pone ai partner restanti la questione su cosa cosa fare del Trans-Pacific Partnership.
Ford CEO Fields agrees w/ Trump: The mother of all trade barriers is currency manipulation, & TPP failed in meaningfully dealing with that.

— The Trump Train (@The_Trump_Train) 24 gennaio 2017
Intanto il Canada guarda ai paesi asiatici: "Aumentare il nostro impegno con le economie in crescita è fondamentale per garantire posti di lavoro sicuri e la prosperità del Paese stesso. Ecco perché vogliamo continuare con il percorso intrapreso", ha dichiarato Trudeau.
Quello che è certo è che al centro delle discussioni con la nuova amministrazione americana ci sono le relazione econonomiche tra i due Stati. L'economia del Canada punta per lo più sull'export e il 78 per cento delle esportazioni sono proprio in America.
What makes Canada an ideal investment destination? Here are just a few reasons: #WEF17pic.twitter.com/91rvFKkoxy

— Canada Trade (@CanadaTrade) January 19, 2017