Martin Schulz, lettore bulimico e predestinato alla carriera europea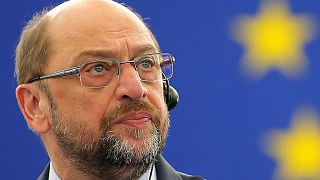 Nato il 20 dicembre del 1955 a Hehlrath, cittadina della Germania occidentale, vicina ai Paesi Bassi e al Belgio, Martin Schulz respira Europa sin da bambino.
Ama leggere e nel 1982 apre una libreria a Würselen, che gestisce per 12 anni.
Ma la politica è qualcosa che lo anima da sempre, a 19 anni aderisce all'Spd, a 31 anni diventa il più giovane sindaco eletto della regione Renania Westfalia.
Martin Schulz se décide à quitter la présidence du Parlement européen https://t.co/jq8gRSNFB4

— Le Monde (@lemondefr) November 24, 2016
Dal 1994, è eurodeputato, nel 2000 è capogruppo dei socialdemocratici e nel 2004 diventa capogruppo dei socialisti all'euro-parlamento. Come presidente dei socialdemocratici, Schulz si batte per la giustizia sociale, vuole più lavoro e chiede la riforma dei mercati finanziari.
Nel 2012 è eletto presidente del parlamento europeo con 387 voti, due anni dopo è rieletto con 409 voti.
È il primo presidente della storia dell'europarlamento a essere eletto per un secondo mandato.
EU in dissarray. Martin Schulz set to quit EU to fight for Merkel's job, putting Juncker in jeopardy. https://t.co/XPIRQJEZDC

— Robert Kimbell (@RedHotSquirrel) November 24, 2016
Nel 2015, viene insignito del premio Carlomagno per le sue qualità di mentore eccezionale di un' Europa unita, diventata più forte grazie a sui sforzi.
In Italia, Schulz diventa popolare nel 2003 dopo il 'duetto con berlusconi proprio al parlamento europeo
In lizza come candidato dei socialisti per diventare presidente della Commissione europea, nel 2014, Schulz non la spunta.
Sposato, ha due figli.
Ama leggere ed è un appassionato di calcio.
Tra i suoi libri preferiti "Il gattopardo" di Giuseppe Tomasi di Lampedusa.