Pakistan: via libera a inchiesta per corruzione su Sharif, opposizione annulla protesta
Commenti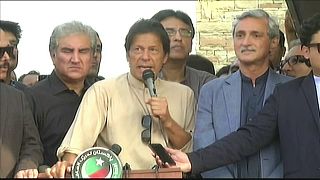 La Corte Suprema del Pakistan autorizza un'indagine per corruzione sulla famiglia del primo ministro Nawaz Sharif: la decisione spinge l'opposizione a rinunciare all'occupazione di Islamabad.
Il movimento per la giustizia, partito dell'ex campione di cricket Imran Khan, aveva annunciato la mobilitazione di un milione di persone per questo mercoledì.
Al posto del blocco della capitale, l'opposizione organizzerà una festa: "Dietro consiglio della Corte Suprema, abbiamo deciso che domani ringrazieremo Dio e celebreremo il giorno del ringraziamento – ha detto Khan – domani a Islamabad riuniremo un milione di persone".
The Supreme Court decided to make a commission. That is what our celebration is about.#IKonSamaa

—

PTI

(@PTIofficial) 1 novembre 2016
Nella notte fra lunedì e martedì circa 5000 oppositori avevano tentato di rimuovere le barriere sull'autostrada fra Peshawar e Islamabad per poter raggiungere la capitale in vista della protesta. La polizia li aveva respinti con lacrimogeni e pallottole di gomma.
L'inchiesta giudiziaria si concentrerà sui presunti conti bancari offshore dei figli di Sharif rivelati dai Panama Papers.