Venezuela in sciopero contro Nicolas Maduro: "Restate tutti a casa"
Commenti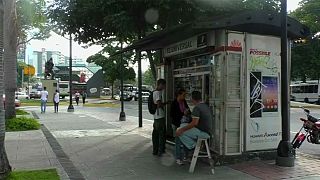 "Restate tutti a casa": con questo slogan in Venezuela l'opposizione di centro-destra ha indetto per questo venerdì uno sciopero generale che ha fatto salire la pressione sull'esecutivo socialista di Nicolas Maduro. L'esercito sequestrerà le aziende che aderiscono. Lo sciopero è una protesta contro la sospensione del referendum per revocare il mandato del presidente.
1000's of people filled the streets of #Venezuela to protest against President Maduro. https://t.co/1RtleqvU36pic.twitter.com/yc0Afem3Jr

—

CBN

News (@CBNNews) 28 October 2016
"Questa è una questione politica. È una lotta di potere, uno scontro tra titani, per vedere chi riesce a ottenere cosa. Alla fine, sono le persone che soffrono. Il lavoro muove il paese, senza lavoro non c'è niente", dice un residente di Caracas.
"Io non sono un sostenitore del governo, sono dalla parte dell'opposizione, ma non sono d'accordo con uno sciopero di 12 ore. È assurdo. Non ha senso", aggiunge un altro.
Thousands take to the streets in #Venezuela in protests against socialist government. https://t.co/kEwE33xRThpic.twitter.com/5BrydvY8U0

—

FOX

Business (@FoxBusiness) 27 October 2016
L'opposizione, che da nove mesi ha la maggioranza in Parlamento, chiede la destituzione di Maduro, eletto nel 2013 e in carica fino al 2019, ritenendolo incapace di risolvere la crisi economica. Per smorzare le tensioni, il presidente ha aumentato del 40% il salario minimo, ora a 140 dollari al mese. Un aumento che non cambia la situazione poiché l'inflazione ha raggiunto il 475%. Annunciate nuove mobilitazioni contro il governo, dopo la protesta di mercoledì scorso sfociata in violenti scontri, con un poliziotto ucciso e una ventina di feriti.