Etiopia, la polizia reprime una protesta. Si parla di centinaia di morti
Commenti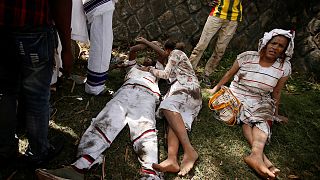 Si è trasformata in tragedia l'annuale raduno religioso a Oromia a sud-est di Addis Abeba in Etiopia.
Alla manifestazione partecipavano almeno due milioni di persone e alcune hanno cominciato a scandire slogan antigovernativi. La polizia, per disperdere la folla, avrebbe sparato gas lacrimogeni e pallottole di gomma scatenando il panico. Il bilancio non ufficiale parla di centinaia di vittime. La polizia di 50 morti. Di fatto sono decine le persone precipitate nei fossi che circondano la zona e rimaste schiacciate da chi cadeva dopo di loro. Il governo ha annunciato che i responsabili pagheranno davanti alla giustizia.
#IrreechaMassacre: Acc Jawar_Mohammed</a> in addition to 120 bodies at Bishoftu hospital.175 bodies transported to AA <a href="https://t.co/ba0eDUHWWk">pic.twitter.com/ba0eDUHWWk</a>"</p>&mdash; #Oromo (RealOromo) 2 de octubre de 2016
Da mesi l'Etiopia è teatro di manifestazioni di protesta organizzate per una maggiore libertà e contro un piano di espansione nella regione di Oromia, generando malumori specie tra i numerosi contadini (di etnia oromo) della zona preoccupati di dover lasciare le proprie terre. Nei giorni scorsi anche gli Stati Uniti si sono detti preoccupati per l'eccessivo uso della forza parte dell'esercito contro i manifestanti.