Bratislava, via libera al CETA. Si tratta ancora sul TTIP
Commenti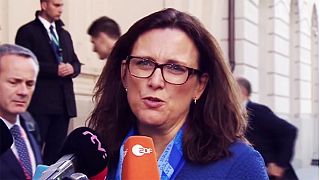 Almeno a parole Bruxelles continua a crederci. Certo la strada del TTIP, il Trattato transatlantico sul commercio e gli investimenti è sempre in salita. A Bratislava nuova riunione informale dei ministri del commercio dei 28 mentre è in dirittura d'arrivo il CETA, dove è stato trovato un accordo.
"Il Ceta, il trattato tra UE e Canada, è cosa fatta; non si torna indietro."

Commissaria europea per il Commercio
"Il trattato tra UE e Canada è cosa fatta. Quello di cui stiamo discutendo con i canadesi e alcun Stati membri è se di deve o meno fare alcune precisazioni che potrebbe alleviare alcune preoccupazioni, in modo da poter iniziare a lavorare in tempo utile per il vertice di ottobre", ha dichiarato la Commissaria europea per il Commercio Cecilia Malmström.
Council of trade ministers now eu2016sk</a>. CETA first point. Hope to find agreement on the way to swift ratification and prov. application</p>&mdash; Cecilia Malmström (MalmstromEU) 23 septembre 2016
Nonostante il no ripetuto della Francia, e i forti dubbi che dividono la Germania il dossier commerciale resta uno dei nodi più complicati da sciogliere per passare a precisi passi negoziali. Se Regno Unito, Italia, Portogallo, Spagna e altri 8 paesi hanno fatto sapere che il TTIP è un'occasione per modellare le regole del commercio nel 21esimo secolo, altri 16 stati membri non hanno voluto sottoscrivere la lettera.
Intanto in molte città europee proseguono da settimane le prosteste contro gli accordi di libero scambio tra Bruxelles, Stati Uniti e Canada.
You're awesome! So many people protesting against #ceta#ttip in #Berlin! #StopCetaTTIP#ttipdemopic.twitter.com/qbXmFwtdOK

— Michael Dettbarn (@mmmuks) 17 de setembro de 2016