USA, dopo le nomination, parte la vera campagna per le presidenziali
Commenti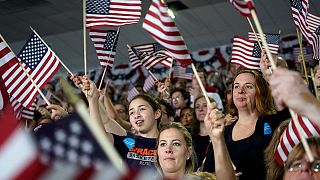 Finito il circo delle nomination, comincia la vera campagna per le presidenziali statunitensi dell'8 novembre.
La democratica Hillary Clinton parte un po' male per via della polemica sul presunto tentativo di ridurre l'impatto dei sostenitori di Bernie Sanders alla Convention di Filadelfia.
These are the instructions for counter-chanting: pic.twitter.com/gXCyIprmEv

— Matthew Yglesias (@mattyglesias) 29 juillet 2016
Sanders supporters are wearing neon green shirts with "Enough is Enough" at #DemConventionhttps://t.co/KIACvMdfSCpic.twitter.com/b9vN2cy3Ls

— The Hill (@thehill) 28 juillet 2016
Poi c'è la notizia dell'inchiesta sull'intrusione nei sistemi informatici dello staff, con i russi nella parte degli Usual suspects.
L'affondo a Trump di Hillary Clinton passa quasi in secondo piano:
Non riconosco il paese che descrive Donald Trump. Non riconosco la meschinità, la bigotteria, la furia, il bullismo. Non lo vedo tutto questo perché non è così che siamo noi americani.
E Donald si tolse i guantoni
Donald Trump risponde lanciando un avvertimento, inquietante se si pensa a cosa potrebbe ancora dire e fare, visto quello che ha già fatto e detto:
Finora sono stato gentile. Ma dopo lo spettacolo di ieri sera, tutte quelle bugie, non sarò più così gentile. Mi tolgo i guantoni e comincio a menare sul serio, va bene?
Bisognerà aspettare settembre per il primo vero faccia a faccia fra i due candidati. Nell'attesa Trump e Clinton continueranno a solcare gli Stati uniti per incontrare il maggior numero possibile di elettori.
Trump nel tentativo di conquistarsi una certa rispettabilità e Clinton per cercare di convincere i recalcitranti che la sua non è solo una campagna contro qualcuno, ma per qualcosa.