Tesla mette il turbo: 500.000 auto elettriche all'anno già dal 2018
Commenti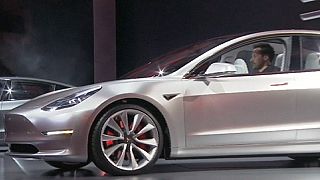 Tesla mette il turbo alla produzione per rispondere all'impennata degli ordini e spera così di tagliare il traguardo produttivo dei 500.000 veicoli all'anno già nel 2018.
Tesla ramps up its ambitions, expecting to produce 500,000 cars annually by 2018 https://t.co/yOSb2PCbQZpic.twitter.com/FKaBhDUb5R

— TechCrunch (@TechCrunch) 5 maggio 2016
Centrare il target con due anni d'anticipo sulle previsioni, mettono però in guardia dal colosso delle auto elettriche di Elon Musk, potrebbe rallentare l'ammortizzazione dei forti investimenti. Fra 80 e 90.000 le auto di cui è prevista la consegna quest'anno, con una forte accelerazione anche nella domanda per la nuova Model 3, presentata a fine marzo.
Tesla's wild new forecast changes the trajectory of an entire industry https://t.co/DsWP8ks7t3pic.twitter.com/UJKzU4mKh2

— Bloomberg (@business) 5 maggio 2016
Facendo eco allo scetticismo di Wall Street, lo stesso Elon Musk riconosce che la barra dei 500.000 veicoli nel 2018 è particolarmente ambiziosa. Qualora però Tesla dovesse centrare il traguardo, riuscirebbe in un'accelerazione produttiva addirittura superiore a quella messa a segno dalla Ford all'inizio del '900 con il suo storico Modello T. E così come all'epoca, ciò segnò una svolta epocale, secondo Bloomberg, anche Tesla potrebbe riuscire a rivoluzionare l'intero mercato dell'auto elettrica.