Bangladesh: uccisi a colpi di machete anche due militanti gay
Commenti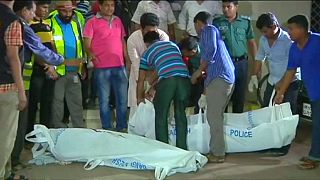 Dopo intellettuali e portabandiera dei laicismo, anche i difensori degli omosessuali. Prosegue in Bangladesh la crociata a colpi di machete contro i nemici dell'Islam più integralista. A finire uccisi sono stati lunedì due giornalisti dell'unica rivista della comunità gay del Paese.
#Bangladesh: Murder of #LGBT editor appalling indictment of authorities failure to protect https://t.co/YIPnjgUNVLpic.twitter.com/4AWnN1S8CL

— PEN International (@pen_int) 25 aprile 2016
La polizia ha imputato l'attacco a un gruppo di sei uomini che, secondo testimoni citati da una televisione locale, avrebbero gridato "Allah Akbar" al momento dell'aggressione. Una delle due vittime lavorava anche per l'ambasciata statunitense nella capitale Dacca, dove è avvenuto l'attacco.
Una dura condanna è arrivata dal Dipartimento di Stato americano, che tramite il suo portavoce, ha manifestato su Twitter una "profonda indignazione".
"We are outraged."@statedeptspox on murders of @usembassydhaka employee & a fellow LGBTI activist in #Bangladesh. https://t.co/jH9hcjYY13

— Department of State (@StateDept) 25 aprile 2016
Un episodio del tutto simile si era verificato appena sabato nel nord-est del Paese. A perdere la vita era stato in quell'occasione un professore universitario, il quarto dello stesso ateneo, che una rivendicazione firmata dall'ISIL accusava di diffondere appelli in favore dell'ateismo. Lunedì il Ministro dell'interno ha respinto ogni coinvolgimento jihadista, ma a fronte del moltiplicarsi degli episodi, la sua tesi degli "attacchi isolati" stenta a convincere.