NBA: Yao Ming entra nella Hall of Fame
Commenti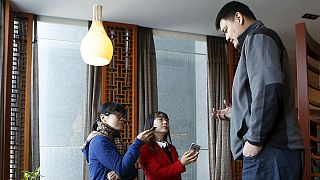 Come si vociferava ormai da giorni, Yao Ming entra nella Hall of Fame NBA. Nato a Shanghai nel 1980 l'ex centro degli Huston Rockets ha giocato nell'NBA per sole otto stagioni, a causa dei tanti problemi fisici che nel 2011 l'hanno costretto al ritiro.
"Prima di tutto – ha commentato in conferenza stampa – sono molto sopreso, è ovvio, come tutti gli altri. E sono molto onorato di far parte di questa lista. So anche che sulla lista ci sono i nomi di Shaquille O'Neal, Allen Iverson e altri giocatori della storia del basket. Ed è per questo che sono onorato di essere tra loro".
La fama internazionale dell'ex giocatore, che ha reso popolare il basket in Cina, ha sicuramente influito sul suo ingresso nella Hall of Fame. Suo infatti il merito di aver fatto diventare il suo Paese di origine il primo mercato per la NBA al di fuori dei confini statunitensi. Ma a Ming non mancano i meriti sportivi: nel 2002 era stato prima scelta assoluta dei Rockets ai draft e in carriera ha mantenuto una media di 19 punti e 9,2 rimbalzi a partita.