L'Onu è con Assange: la sua detenzione è ritenuta "arbitraria e illegale"
Commenti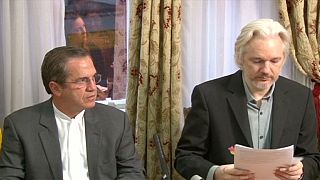 Le Nazioni Unite sono dalla parte di Assange, la sua detenzione è ritenuta "arbitraria e illegale". Dal giugno 2012 il fondatore di WikiLeaks vive a Londra come esule politico nell'ambasciata dell'Ecuador che gli ha offerto protezione dalle autorità britanniche e svedesi che lo vogliono arrestare. L'Onu ora dovrebbe chiedere formalmente al Regno Unito e alla Svezia di rilasciarlo.
#Assange detention case: Clarifications on whether the #UNWGAD opinion to be issued tomorrow is legally binding pic.twitter.com/BGUJEzoJn3

— UN Human Rights (@UNHumanRights) February 4, 2016
"La decisione non è formalmente vincolante, quindi i due Paesi sono formalmente liberi di farla cadere nel vuoto e non rispettarla. Penso, tuttavia, che sarà impossibile per la Svezia ignorare quello che le Nazioni Unite hanno stabilito interpretando la legge svedese. Assange è stato detenuto per tre anni e mezzo che è una pena maggiore della massima che rischierebbe se fosse estradato e condannato in Svezia ", ha commentato l'avvocato svedese di Assange, Per Samuelson.
Il mandato di arresto europeo contro Assange resta in vigore ha fatto sapere il Governo di Londra che dice di avere l'obbligo legale di estradarlo in Svezia. 44 anni, Assange è stato arrestato nel 2010 a Londra, accusato di aggressione sessuale da parte di due donne svedesi, ex collaboratrici di WikiLeaks. Assange ha sempre respinto le accuse definendole di "natura politica".