Ashura: bombe contro gli sciiti in Bangladesh, oltre 20 morti in Pakistan
Commenti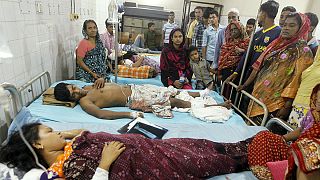 Violenza protagonista nelle celebrazioni dell'Ashura organizzate dalle comunità sciite in diversi Paesi musulmani. Una serie di esplosioni, almeno tre secondo i testimoni, ha colpito Dacca, in Bagladesh.
Un giovane di 14 anni è rimasto ucciso, i feriti sono oltre 100. Gli attentatori hanno lanciato le bombe in mezzo alla folla nella città vecchia della capitale bengalese durante la processione.
È la prima volta che un simile incidente si registra in Bangladesh. L'attacco arriva dopo che un kamikaze si è fatto saltare in aria nella città pachistana di Jacobabad, causando 22 vittime.
Gli sciiti ricordano la morte, nel settimo secolo, dell'Imam Hussain, nipote del Profeta Maometto, nella battaglia di Kerbala. La città irachena è spesso bersaglio di attacchi suicidi da parte dei guerriglieri dell'Isil.
Iraqi Shiite men cut their scalps with machetes as they take part in the Ashura religious ritual in Najaf pic.twitter.com/0sGiKawTYk

— Agence France-Presse (@AFP) October 24, 2015
L'arrivo di circa due milioni di sciiti dalle altre aree dell'Iraq, ma anche da Iran, Libano e Pakistan ha visto il dispiegamento di migliaia agenti delle forze di sicurezza.
Bomb attacks in Bangladesh leave 1 dead, over 100 injured | https://t.co/zXRLmLPs4Kpic.twitter.com/81Z43Upodc

— myRepública (@RepublicaNepal) October 24, 2015