Supercoppa, Barcellona col brivido: Siviglia battuto 5-4 ai supplementari
Commenti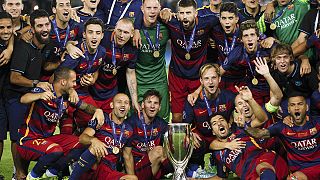 Il Barcellona comincia la stagione portando a casa la Supercoppa europea. A Tbilisi la squadra di Luis Enrique batte 5-4 il Siviglia ai supplementari al termine di una partita pazza e in bilico fino al 120'.
La squadra di Emery colpisce subito con Banega, autore dell'1-0 su punizione in avvio di gara. Poi però si scatena il solito Messi, che risponde per le rime al connazionale: il numero 10 ribalta il risultato con due punizioni capolavoro al 7' e al 16'.
CHAMPIONS! #C4MPIONS RT to congratulate the team! Força Barça! pic.twitter.com/LljtZgos5a

— FC Barcelona (@FCBarcelona) 11 Agosto 2015
Le reti di Rafinha e Suarez sembrano chiudere i conti, ma nella ripresa il Siviglia centra una clamorosa rimonta con Reyes, Gameiro su rigore e Konoplyanka. Nei supplementari è Pedro, quasi certamente alla sua ultima partita con la maglia blaugrana prima del trasferimento in Premier League, a firmare al 115' il gol che regala il trofeo al Barcellona. I catalani conquistano la Supercoppa per la quinta volta e raggiungono il Milan in testa all'albo d'oro del torneo.
FC Barcelona match AC Milan with five European Super Cups after victory over Sevilla http://t.co/WsWnLDi93l#DRE4Mpic.twitter.com/2Kb2VGqtzS

— FC Barcelona (@FCBarcelona) 11 Agosto 2015