Wimbledon, sorteggio morbido per Djokovic e Serena Williams
Commenti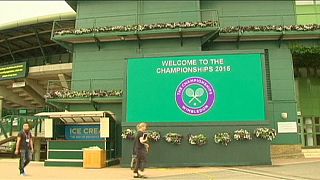 Tutto pronto a Wimbledon per il terzo Slam della stagione. Il sorteggio ha già regalato emozioni. Il numero 1 del mondo e detentore del titolo, Novak Djokovic, pesca al primo turno il tedesco Kohlschreiber, ma evita soprattutto i 2 principali rivali, Roger Federer e Andy Murray, che finiscono dall'altra parte del tabellone. Per Nole, possibile la semifinale contro Wawrinka, che lo ha battuto nell'ultima finale del Roland Garros.
And here are the full draws… #WimbledonAwaits Ladies' singles: http://t.co/x23NuAmzZ7 Men's singles: http://t.co/f1mlpMz5xp

— Wimbledon (@Wimbledon) 26 Giugno 2015
Quattro gli azzurri al via nel main draw: il sorteggio peggiore è capitato a Simone Bolelli, che se la vedrà con il giapponese Kei Nishikori, quinta testa di serie del torneo.
One picture. 16 #Wimbledon titles. #WimbledonAwaitspic.twitter.com/474GeVjIxH

— Wimbledon (@Wimbledon) 26 Giugno 2015
Tra le donne, esordio morbido per la campionessa in carica, la ceca Petra Kvitova, che se la vedrà con l'olandese Kimi Bertens, mentre Serena Williams affronterà la russa Margarita Gasparyan. Tra le italiane, spicca il derby fra Sara Errani e Francesca Schiavone.