Inondazioni in Georgia, giornata di lutto nazionale. Si cercano 24 dispersi
Commenti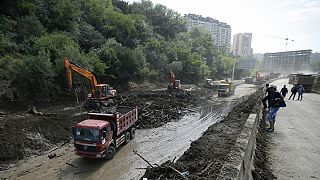 Giornata di lutto nazionale in Georgia. Ancora 24 le persone a mancare all'appello a Tbilisi, devastata da piogge e inondazioni senza precedenti. Il bilancio, per ora, resta di 12 vittime e una quarantina di feriti.
Non si ferma il lavoro delle squadre di soccorso e delle centinaia di volontari impegnate in queste ore nella ricerca dei dispersi della pulizia delle strade e degli edifici. Tbilisi resta paralizzata. Le forti piogge che si sono abbattute domenica sulla capitale georgiana hanno trasformato il fiume Verve in una colata di fango che ha inghiottito palazzi, strade, automobili e persone.
A complicare la situazione anche la ricerca degli animali dello zoo cittadino, tra cui coccodrilli, elefanti, leoni. Alcuni dei quali sono stati uccisi dalle squadre di soccorso, mentre altri sarebbero rientrati nello zoo.
Animals on streets after flood wrecks zoo in Tbilisi http://t.co/KwP9SGaUUz (AP) pic.twitter.com/90Dc8lce3J

— The Times of London (@thetimes) June 15, 2015
18 milioni di euro, la stima approssimativa dei danni secondo il Ministro delle Finanze georgiano, che ha chiesto aiuto alla comunità internazionale per ripristinare la normalità nella capitale.