Rimosso busto di Snowden a New York
Commenti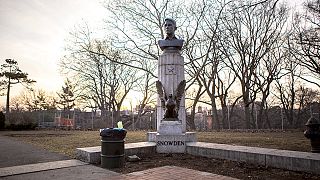 Non è durato nemmeno 24 ore ma tanto basta per attirare tanta attenzione. È stato prontamente rimosso dalle autorità della città di New York un busto dedicato a Edward Snowden, collocato ieri all'alba da un gruppo di artisti anonimo nel parco di Fort Green, a Brooklyn.
La statua era stata posizionata all'alba su una colonna del "Prison Ship Martyrs' Monument", un memoriale in onore di 11.500 prigionieri di guerra americani uccisi sulle navi britanniche durante la guerra d'indipendenza (1775-1783).
Secondo gli autori del gesto, che hanno rilasciato un'intervista mantenendo l'anonimato, un luogo che dovrebbe ricordare l'impegno degli Usa a restare fedeli a valori di libertà che vengono invece traditi dai governi americani.
There's a Massive, Illicit Bust of Edward Snowden Stuck to a War Monumen…: https://t.co/fw71D6lpV5 via YouTube</a></p>&mdash; Andrea S. Neri (AndreaNerone) 7 Aprile 2015
Il gruppo ha inoltre spiegato che il busto era stato appositamente sistemato in modo tale che la sua rimozione non potesse apportare danni alla struttura del memoriale.
Edward Snowden, ex-agente della Nsa, 31 anni, vive in esilio in Russia dal 2013, dopo le sue rivelazioni sull'attività di spionaggio degli Usa.