Demis Roussos, l'ultimo saluto al "bambino di Afrodite"
Commenti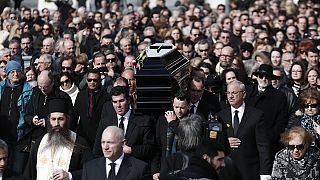 Una bara tutta nera, per ospitare chi la sua voce la dedicò ben più alla luce che alle tenebre. Atene ha detto addio a Demis Roussos, il cantante degli Aphrodite's child, divenuto famoso in tutto il mondo a cavallo tra gli anni '60 e '80, prima con la band e poi da solista, vendendo 60 milioni di dischi.
L'artista, malato da tempo, è morto lo scorso week end a 68 anni.
Ai funerali c'erano, naturalmente, molti artisti ellenici.
"La voce che risvegliava emozioni, le emozioni più nobili della gente, e ha onorato la Grecia ovunque. Questo è il nostro saluto a Demis" ha affermato la cantante Mariza Koch.
Giorgos Hatzinasios, compositore, lo ha ricordato così: "posso ancora sentire la sua risata sincera risuonare nelle mie orecchie. Voglio dirgli addio con rimpianto e amore"
.
In Italia, Paese di cui era originaria la madre, la notorietà arrivò con la vittoria al Festivalbar del 1971, con "We shall dance", alla quale seguirono altre hit come "Forever and ever" e "Lovely lady of arcadia".
La sua ultima apparizione in televisione in Italia nel 2008, nella trasmissione "I migliori anni".