Ebola presenta il conto: epidemia potrebbe costare 25,4 mld di euro
Commenti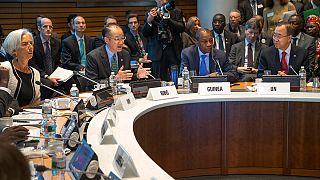 Il virus dell'Ebola rischia di presentare un conto salato. La Banca Mondiale stima che ''se l'epidemia'' si estenderà ad alcuni paesi vicini a quelli più colpiti – Sierra Leone, Liberia e Guinea -, l'impatto
finanziario a livello regionale sarà di 25,4 miliardi di euro entro la fine del 2015.
World Bank: The Economic Impact of the 2014 Ebola epidemic 10/7 http://t.co/sSIiiKJKYOpic.twitter.com/5YIO2nBEOE

— Greg Folkers (@greg_folkers) October 8, 2014
''La comunità internazionale deve trovare strade per superare gli ostacoli e portare più medici e personale per cercare di fermare l'Ebola. Deve agire nella consapevolezza che un'infrastruttura sanitaria debole in paesi fragili è una minaccia non solo per i cittadini ma per i partner commerciali'', ha detto il presidente della Banca Mondiale, Jim Yong Kim, sottolineando che ''i costi economici enormi'' dell'Ebola ''nei paesi colpiti e nel mondo potrebbero essere evitati con investimenti nel rafforzamento del sistema sanitario''.
The cost of Ebola could top $32 billion, World Bank warns http://t.co/zmUij5Mhdrpic.twitter.com/skq83o5cAC

—

CNN

International (@cnni) October 8, 2014
''Non è certo che l'epidemia sarà contenuta entro il dicembre 2014'' mette in evidenza la Banca Mondiale, precisando che l'impatto economico dell'Ebola è già ''molto serio'' nei tre paesi più colpiti e potrebbe diventare ''catastrofico'' se il contenimento del virus procederà lentamente.