Stati Uniti, via libera al vaccino di Moderna
Commenti
Di Euronews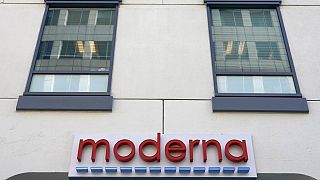 I benefici sono superiori ai rischi. A pesare i pro e i contro del vaccino di Moderna è il comitato di consulenti della Food and Drug Administration, che ne ha approvato l'uso d'emergenza.
Il vaccino è molto simile a quello della Pfizer Inc. e della tedesca BioNTech, che ora viene distribuito a milioni di operatori sanitari e di residenti delle case di cura
Secondo Francis Collins, direttore del National Institutes of Health (NIH), "tra Pfizer e Moderna, ci saranno dosi sufficienti, entro il mese di dicembre, per immunizzare i primi 20 milioni di persone in quella che speriamo sia una grande spinta per lasciarci alle spalle il virus. Anche se ci vorranno ancora molti mesi per arrivare a tutti gli americani".
Gli Stati Uniti aggiungono così un altro vaccino, dopo quello di Pfizer-BioNTech, all'arsenale contro il Covid-19.
Moderna prevede di avere tra sino a 125 milioni di dosi, disponibili a livello globale nei primi tre mesi del 2021, con 85-100 milioni da somministrare negli Stati Uniti. dove la pandemia ha provocato 312mila vittime
"Francamente, se non riusciamo a immunizzare circa l'80% degli americani entro la metà di questo 2021, c'è il rischio che questa epidemia possa continuare all'infinito - aggiunge Francis Collins - Dovremo fare molto qui per cercare di acquisire le informazioni necessarie a prendere decisioni".
Lunedì è iniziata una massiccia campagna di vaccinazione . Sia il vaccino di Moderna, che potrebbe essere autorizzato in Europa il 6 gennaio, che quello di Pfizer/BioNTech sono risultati efficaci al 95% circa nella prevenzione del coronavirus.