La Cina svela il "lato nascosto della Luna"
Commenti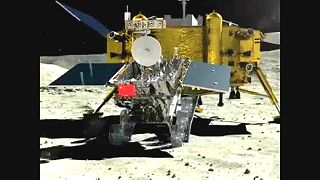 "The dark side of the Moon" (il lato oscuro della luna) è venuto alla luce. La sonda cinese Chang'e-4 è atterrata lo scorso 3 gennaio sul lato nascosto del satellite naturale della Terra. E per la prima volta nella storia ci è possibile vedere un'immagine panoramica di questo luogo finora inesplorato.
Un'istantanea a 360 gradi - ripresa dal rover Yutu-2 - del paesaggio lunare: grigio e colmo di piccoli crateri.
I video, diffusi anche dall'emittente nazionale CCTV, sono stati trasmessi da un ripetitore satellitare al Centro di controllo e comando aerospaziale di Pechino, dove sono stati accolti con grande clamore.