Vertice Apec: attesa per l'incontro tra Trump e Putin
Commenti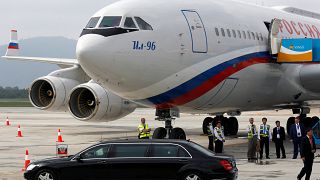 Potrebbero tornare a stringersi la mano Donald Trump e Vladimir Putin. I presidenti di Stati Uniti e Russia sono entrambi attesi in Vietnam in occasione del vertice Apec – Asia Pacific Economic Cooperation. Il consigliere del presidente russo ha parlato di un incontro atteso nella giornata di venerdì. Più cauti gli americani. Da Washington, il Segretario di Stato Rex Tillerson ha precisato che il bilaterale "è ancora in esame".
Molti i dossier da passare in rassegna, dopo che le relazioni tra i due paesi si sono fatte più tese. la Casa Bianca ha di recente imposto nuove sanzioni contro Mosca che ha risposto dimezzando la presenza diplomatica nel paese.
Trump: Fairer trade with China will be 'tremendous to both of us' https://t.co/HcHTOJ7ZE0

— Wall Street Journal (@WSJ) 10 novembre 2017
Trump intanto è già in viaggio verso il summit che si tiene a Danang. L'Air Force One ha lasciato la Cina dove il presidente ha incontrato Xi-Jinping, nel tentativo di costruire rapporti commerciali più forti con Pechino. Un cambio di rotta rispetto al passato e all'orizzonte una nuova intesa da 250 milirardi di dollari.