Vietnam: tifone Damrey, 27 morti e decine di dispersi
Commenti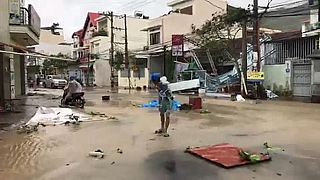 Migliaia di case distrutte, villaggi completamente isolati. E' di almeno 27 morti e una ventina di dispersi il bilancio del tifone che si è abbattuto sulle coste centromeridionali del Vietnam. La provincia più devastata è quella di Khanh Hoa dove si è registrato il maggior numero di vittime, con abitazioni trascinate via dalle inondazioni.
#UPDATE At least 27 people die and nearly two dozen are missing after Typhoon Damrey barrels into Vietnam https://t.co/itddZFS47epic.twitter.com/3WYs6qbqLc

—

AFP

news agency (@AFP) November 5, 2017
La furia dell'uragano Damrey ha affondato inoltre un centinaio di imbarcazioni da trasporto e pesca, causando enormi danni alle coltivazioni di riso. Le autorità locali hanno registrato blackout in varie zone colpite. Decine i voli cancellati.
Death toll from typhoon in Vietnam rises to 27 https://t.co/dhK9Q0THd9

—

CNBC

(@CNBC) November 5, 2017
Lo scorso mese, sempre a causa del maltempo, in Vietnam si erano registrati 75 morti e una trentina di dispersi.