Trump in Giappone: "Nessun dittatore sottovaluti gli Usa"
Commenti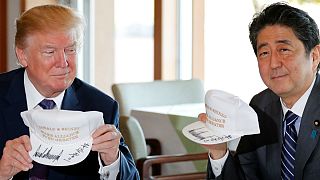 Un bomber da aviatore e un monito alla Corea del Nord. Così il Presidente americano Donald Trump ha inaugurato nella base aerea statunenitense di Yokota, vicino a Tokyo, la sua missione in Asia. Il capo della Casa Bianca ha usato subito parole forti contro Pyongyang.
Just gave a speech to the great men and women at Yokota Air Base in Tokyo, Japan. Leaving to see Prime Minister Abe. pic.twitter.com/6LRAgojvDB

— Donald J. Trump (@realDonaldTrump) November 5, 2017
"Nessuno, nessuna nazione, nessun regime e nessun dittatore devono sottovalutare il nostro potenziale e la nostra determinazione", ha detto il tycoon repubblicano davanti ai suoi militari. Parole rivolte soprattutto a Kim Jong-un.
"#USA!" shouts the troops in Yokota, #Japan as POTUS</a> starts talk with military service members. <a href="https://twitter.com/hashtag/POTUSinAsia?src=hash&ref_src=twsrc%5Etfw">#POTUSinAsia</a> <a href="https://t.co/MjzPUuq3tm">pic.twitter.com/MjzPUuq3tm</a></p>— U.S. Pacific Command (PacificCommand) November 5, 2017
Trump avverte la Nord Corea: "Dominiamo terra e spazio"
Secondo fonti diplomatiche, dopo i test balisitici nordcoreani, Trump si lamentò col governo giapponese per non aver abbattuto i missili lanciati dalla Corea del Nord e finiti nel Pacifico. Il Presidente, sottolinenando la potenza militare a stelle e strisce, non si è risparmiato, denunciando ancora una volta la debolezza delle passate amministrazioni di fronte alla minaccia di Pyongyang.
Per il Presidente americano, un'agenda molto fitta di appuntamenti, a partire dall'incontro con il primo ministro giapponese Shinzo Abe. Trump resterà in Giappone fino a martedì prima di proseguire in un tour in altre quattro nazioni del continente asiatico, la Corea del Sud, la Cina, il Vietnam e le Filippine.
Playing golf with Prime Minister Abe and Hideki Matsuyama, two wonderful people! pic.twitter.com/vYLULe0o2K

— Donald J. Trump (@realDonaldTrump) November 5, 2017