Trump in Asia per cementare l'asse contro Pyongyang
Commenti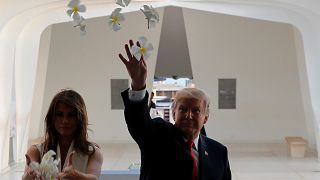 Trump in Asia a caccia di sponde contro la Corea del Nord
In pieno polverone per le presunte interferenze russe nella campagna presidenziale, Trump si imbarca per una 12 giorni in Asia, con l'obiettivo di cementare l'asse contro la Corea del Nord e la prospettiva di incontrare il suo omologo russo Putin. Più lungo nella storia degli Stati Uniti da venticinque anni a questa parte, il tour del Presidente lo porterà in Giappone, Corea del Sud, Vietnam e Filippine.

Il tradizionale benvenuto floreale delle Hawai, dove Trump ha fatto tappa prima di imbarcarsi per il suo tour asiatico. Foto: REUTERS/Jonathan Ernst



Prima tappa un omaggio alle vittime di Pearl Harbor
Prima tappa il Memoriale per le vittime di Pearl Harbor: la base navale delle Hawaii, il cui bombardamento da parte del Giappone, il 7 dicembre 1941, trascinò gli Stati Uniti nella Seconda guerra mondiale.
L'omaggio del presidente Trump e della First Lady Melania alle vittime di Pearl Harbor. Foto:

REUTERS

/Jonathan Ernst
In the Shrine Room aboard the USS Arizona Memorial where those who perished aboard the Arizona have their names etched in marble. pic.twitter.com/PwPU4DAVkn

—

USSA

rizona (@USSArizona) 4 novembre 2017
In agenda anche la "diplomazia del golf"
In agenda, poi, anche una partita di golf – e un più serio incontro bilaterale – con il premier giapponese Shinzo Abe, un incontro con il Presidente cinese Xi Jinping e – forse – anche un faccia a faccia con quello russo Putin. In merito, l'ipotesi è stata ventilata dallo stesso Trump che, in un'intervista televisiva, ha menzionato la possibilità di un incontro nel corso del Vertice per la cooperazione economica in Asia-Pacifico, a cui parteciperà la prossima settimana in Vietnam. A Xi Jinping, Trump tenterà invece di strappare l'impegno di Pechino a una linea più dura nel contrastare la minaccia nucleare nord-coreana.