Texas flagellato da Harvey, Trump promette 1 milione di dollari
Commenti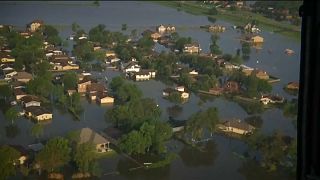 Una cinquantina di morti, un milione di persone evacuate e la corsa dei soccorsi per cercare di salvare vite: è questa la fotografia del Texas violentemente colpito dall'uragano Harvey. La macchina degli aiuti umanitari è al lavoro per aiutare le centomila famiglie interessate dalla catastrofe. Si cominciano a contare anche i danni che secondo la Casa Bianca potrebbero essere compresi tra i 30 e 100 miliardi di dollari, una stima che se confermata al rialzo farebbe di Harvey il nono peggior disastro naturale nel mondo dal 1900. Basti pensare che Katrina e Sandy insieme costarono 160 miliardi di dollari. Donald Trump è atteso a Houston, in Texas e Lake Charles, in Louisiana, dove visiterà le zone disastrate.
I will be going to Texas and Louisiana tomorrow with First Lady. Great progress being made! Spending weekend working at White House.

— Donald J. Trump (@realDonaldTrump) September 2, 2017
1 milione di dollari verrano finanziati per la ricostruzione, ha fatto sapere il presidente degli Stati Uniti. A preoccupare è anche l'impianto chimico allagato di Arkema a Crosby, Texas, 48 chilometri a nordest di Houston dove due blackout hanno provocato due esplosioni con la conseguente emissione di fumo irritante. La tempesta è stata declassata a depressione tropicale, ma l'allerta resta alta.