Impiegato all'ultimo giorno di lavoro blocca Twitter a Trump
Commenti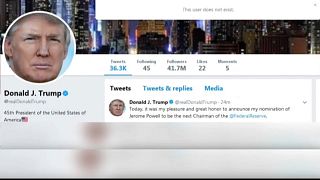 Brutto scherzo a Donald Trump da parte di un impiegato di Twitter che, giovedì intorno alle 19, ora locale, ha disattivato per alcuni minuti l'account del presidente statunitense. La compagnia ha subito postato un messaggio parlando di errore umano. Poi, a seguito di un'indagine interna, ha comunicato di aver scoperto che la responsabilità era di un dipendente al suo ultimo giorno di lavoro.
Through our investigation we have learned that this was done by a Twitter customer support employee who did this on the employee's last day. We are conducting a full internal review. https://t.co/mlarOgiaRF

— Twitter Government (@TwitterGov) November 3, 2017
La notizia del bavaglio ai cinguettii di Trump ha fatto il giro del mondo: l'inquilino della Casa Bianca, che ha milioni di follower, usa il social media quasi quotidianamente per comunicare le sue politiche.
AGGIORNAMENTOORE 14.30: Il presidente USA ha bollato l'autore del gesto come un furfante, ma di tutt'altro avviso sono molti utenti del social network
My Twitter account was taken down for 11 minutes by a rogue employee. I guess the word must finally be getting out-and having an impact.

— Donald J. Trump (@realDonaldTrump) November 3, 2017
In molti hanno chiamato "eroe" l'impiegato di Twitter, ed è subito partita la caccia all'autore del gesto: la richiesta di riassunzione, con tanto di promozione, è una delle più comuni avanzate da tutti coloro che non sono esattamente in linea con il pensiero politico di Trump.
Whoever he or she is, I propose a twittertape parade.

— Jeff Jarvis (@jeffjarvis) November 3, 2017
If you're going down, do it in a blaze of glory! Kudos, Former Twitter Hero!! Kudos!! pic.twitter.com/fmefoByhio

— Cranky Old Broad (@bailedireachmom) November 3, 2017
re-hire and give him a raise

— Karl Safchick (@KarlSafchick) November 3, 2017
This is my best moment of 2017. pic.twitter.com/LNKGKwWBVm

— I'm Sorry Aunt Lydia (@TinaMcGugan) November 3, 2017
Not all heroes wear capes

— Julia Rothschild (@jrothschild22) November 3, 2017
If it's possible, could you pass this along to them? pic.twitter.com/mSJ8wTBUG4

— MishMash (@michhastings) November 3, 2017
Shoutout to that former employee, wherever they are pic.twitter.com/WRynSsNJY7

— Chelsea (@lilreimes) November 3, 2017
November 3, 2017
Made the world a better place for some minutes! Thanks unknown employee!

— Jörg Scherz (@juriberlin) November 3, 2017