Verso l'addio a Cassini, la sonda che ci ha svelato Saturno
Commenti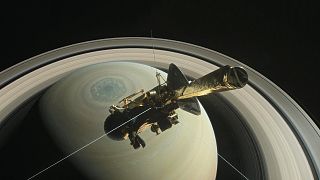 È iniziato il conto alla rovescia per la fine di Cassini. La sonda della Nasa che in tredici anni di missione su Saturno ci ha svelato i suoi anelli e fatto scoprire le sue lune, si disintegrerà questo venerdì, dopo un "ultimo tuffo" nell'atmosfera del Pianeta.
"Sul sito della Nasa, il monitoraggio "minuto per minuto" del "gran finale" di Cassini":https://saturn.jpl.nasa.gov/mission/saturn-tour/where-is-cassini-now/
Are you ready to take the plunge? Tomorrow, @CassiniSaturn will complete a remarkable mission studying Saturn. Info: https://t.co/aXw45GFrskpic.twitter.com/T80uSdtwKM

— NASA (@NASA) 14 settembre 2017
"Guardando le foto di Saturno scattate dalla sonda Cassini non si può non restarne affascinati – commenta l'esperto di euronews, Jeremy Wilks . Per gli scienziati un pozzo di scoperte, perché durante ben tredici anni hanno testimoniato l'evoluzione e i cambiamenti del pianeta, studiandone da vicino gli anelli e analizzare con precisione alcune delle sue tante lune".

Le due ultime orbite di Cassini intorno a Saturno, in un'animazione realizzata dalla Nasa
All'inizio della sua esplorazione, l'atterraggio su Titano: una prodezza per la scienza spaziale, che già nel 2004 rivelò l'affascinante presenza di un vero mare di metano sul più grande satellite di Saturno. Poi la scoperta dell'acqua che ribolle su Encelado, altra luna del Pianeta, che sotto la sua coltre ghiacciata potrebbe nascondere un vero oceano riscaldato.
"Cassini termina la sua missione facendo quanto le riesce meglio – conclude sempre Jeremy Wilks -: raccogliendo dati. Otto gli strumenti che invieranno sulla Terra informazioni su Saturno fino all'ultimo istante: quando la sonda inizierà a disintegrarsi e poi si zittirà per sempre".