Mostra del cinema di Venezia: Clooney presenta la sua commedia-thriller politica ''Suburbicon''
Commenti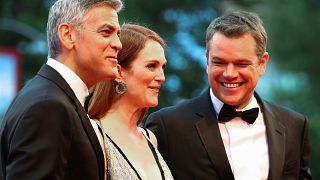 George Clooney al fianco della moglie Amal alla Mostra del Cinema di Venezia, per presentare il suo nuovo film: Suburbicon.
REUTERS reports George Clooney tackles 'original sin' of slavery and racism in dark comedy https://t.co/zfdHQwF6Cspic.twitter.com/f1jVBy3LC3

— Channel 1 America (@channel1america) 2 settembre 2017
Con la sceneggiatura dei fratelli Coen e il bel 56enne dietro la cinepresa, il film è un racconto politico, una commedia-thriller, che porta in scena un'America degli anni '50, dove gli americani difendono la loro identità bianca.
"Questo non è un film su Donald Trump'', dichiara Clooney. ''E' un film sull'idea di come non abbiamo mai affrontato i nostri problemi nella loro interezza, ci abbiamo solo provato. Se venite nel nostro Paese… beh credo sia ora il più adirato che abbia mai visto. E ho vissuto nel periodo del Watergate! Oggi c'è una nuvola scura che sovrasta il nostro Paese''.
Suburbicon, che ha come protagonisti Matt Damon e Julianne Moore, uscirà nelle sale italiane il 14 dicembre.
Foxtrot porta Israele al Lido, con un film, firmato dal regista Samuel Maoz – quello del Leone d'Oro 2009 per Lebanon – che è un racconto in cui si cerca di analizzare il destino.
In Venice, 'Foxtrot' probes family grief and Israeli trauma: VENICE, Italy (AP) – Israeli director Samuel Maoz won… https://t.co/FaFw9wkhnUpic.twitter.com/JgYfpJekWn

— Mario Cabrera (@zonacapitalista) 2 settembre 2017
"E' abbastanza comprensibile che questo film sia una grande allegoria, di ciò che rappresenta l'esercito'', spiega Maoz. ''Non voglio essere ingenuo e dire che non ci sia della politica dietro, ovviamente ce n'è. Ma prima di tutto, è più universale che specifico".