Russiagate: nuovi elementi sull'incontro tra Trump Jr e avvocato russo
Commenti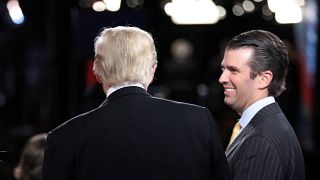 Secondo quanto riferito dalla Cnn, sarebbero state almeno 8 le persone presenti all'incontro avvenuto nel giugno del 2016 tra Donald Trump Junior e un'avvocatessa russa. Durante il colloquio, che è stato confermato dal figlio del presidente, si è discusso di eventuali informazioni compromettenti sul conto di Hillary Clinton.
June 2016 meeting at Trump Tower with Donald Trump Jr., Jared Kushner, and Paul Manafort included at least 8 people https://t.co/JKmEoCpQhU

—

CNN

(@CNN) 14 luglio 2017
Per Nancy Pelosi del Partito Democratico a questo punto, "è importante recuperare tutte le informazioni sia che si tratti di messaggi diretti, twitter e email, tra i membri della famiglia Trump e all'interno dell'amministrazione".
Il presidente della Commissione giustizia del senato che sta indagando sull'affare Russiagate e le possibili interferenze di Mosca nella campagna presidenziale americana, vorrebbe convocare
Donald Trump Junior così come Jared Kushner, il genero del presidente.
Il caso quindi si complica mentre emergono altri dettagli sull'incontro dello scorso anno tra i fedelissimi di Trump e l'avvocatessa russa. Tra i presenti ci sarebbe stato anche un lobbista per il governo russo.