USA: "Pechino faccia di piu' contro la Corea del Nord"
Commenti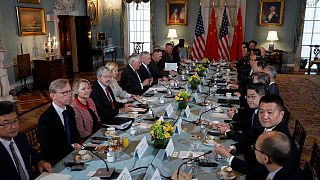 Prove di dialogo tra Washington e Pechino, con lo sguardo rivolto alla Corea del Nord. Diplomatici cinesi hanno incontrato i loro omologhi americani alla Casa Bianca per discutere il da farsi di fronte alla minaccia rappresentata dal regime di Pyongyang, impegnato senza sosta nella prosecuzione del suo piano nucleare e balistico.
REXTILLERSON, Segretario di stato americano: "Entrambi vogliamo una denuclearizzazione della Corea Del Nord che sia completa, verificabile e irreversibile. Chiediamo che Pyongyang interrompa il suo programma nucleare illegale e i suoi test balistici, cosi come stabilito dalle risoluzioni del consiglio di sicurezza delle Nazioni Unite".
Gli Stati Uniti, per i quali la Corea del nord rappresenta una priorità di politica estera, contano sulla Cina come potenza stabilizzatrice nella regione, ma vorrebbero che Pechino facesse di piu' contro il regime di KIMYONG UN. Lo conferma in un tweet il presidente Trump che ringrazia il Presidente cinese per averci almeno provato…!
While I greatly appreciate the efforts of President Xi & China to help with North Korea, it has not worked out. At least I know China tried!

— Donald J. Trump (@realDonaldTrump) 20 giugno 2017
Sulle relazioni tese tra Washington e Pyongyang pesa, oltre al dossier nucleare, anche il caso di Otto Warmbier, lo studente americano recluso per 18 mesi nelle prigioni nord coreane e morto in circostanze non chiare dopo essere stato liberato la settimana scorsa.