Germania: Merkel incontra Modi e attacca Trump
Commenti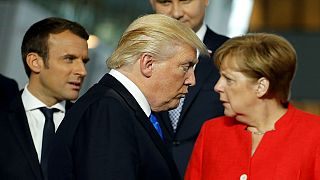 All'indomani dello strappo con Donald Trump, Angela Merkel ha incontrato a Berlino il Premier indiano, Narendra Modi, per le tradizionali consultazioni governative tra i due Paesi.
Nell'occasione, la Cancelliera tedesca è tornata ad attaccare Washington.
"La nostre relazioni transatlantiche sono di grande importanza, le mie recenti dichiarazioni sono dovute al fatto che, allo stato attuale, in Europa abbiamo molte ragioni per prendere il destino nelle nostre mani: chi non guarda al mondo che lo circonda, finisce in disparte".
In un tweet al vetriolo, Trump ha a sua volta parlato di "un deficit commerciale enorme con la Germania, rea di pagare molto meno del dovuto per la Nato e le Forze Armate".
We have a MASSIVE trade deficit with Germany, plus they pay FARLESS than they should on NATO & military. Very bad for U.S. This will change

— Donald J. Trump (@realDonaldTrump) 30 mai 2017
Alla vigilia del G20 (in programma a luglio), la Cancelliera ha incassato l'appoggio del Premier italiano, Paolo Gentiloni, ed è ora alla ricerca di alleati extraeuropei sui quali puntare: proprio in quest'ottica, s'inquadra l'incontro che avverrà in questi giorni con il Primo Ministro cinese, Li Keqiang.