Finale dell'Eurovision Song Contest: favorita l'Italia con Gabbani
Commenti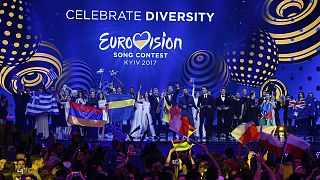 Tutto è pronto per la finale della 62esima edizione dell'Eurovision Song Contest che si terrà a Kiev, in Ucraina. Si sfidano in 26 Paesi, dei 42 in gara. Nelle due semifinali ne sono stati selezionati 20, ai quali si uniscono Italia, Francia, Germania, Regno Unito e Spagna che entrano di diritto insieme all'Ucraina, Paese ospitante.
We have the running order for the #ESC2017 Grand Final! https://t.co/51S6ICnTN9pic.twitter.com/nrph7Tmbbg

— Eurovision (@Eurovision) 11 May 2017
Chi si contende il podio e chi rimane fuori? Conosciuto come "Mister Voice" in Croazia, Jacques Houdek ha conquistato il pubblico con il suo "My friend" che fonde lo stile pop e quello lirico. In finale c'è anche l'Ungheria. "Origo" di Joci Pápai è un brano ispirato alla cultura musicale rom e caratterizzato da una commistione di generi che va dal pop all'etnico. Per la Romania c'è il duo formato da Ilinca e Alex Florea con il brano "Yodel it".
Tra gli atri Paesi qualificati ci sono anche Bulgaria, Bielorussia, Danimarca, Israele, Norvegia e Austria. Tra quelli che non solcheranno il palco dell'International Exhibition Centre c'è la Macedonia rappresentata da Jana Burceska. A penalizzarla in "Dance alone" è stata forse la coreografia che non ha convinto pienamente. Ma il vero colpo di scena per lei è stato questa dichiarazione d'amore dal suo compagno che le ha chiesto di sposarla.
#Magellano#DiarioDiBordo
Ciao a tutti! Come state?
Non vedo l'ora sia sabato per salire sul quel palco con tutta l'energia che mi regalate! pic.twitter.com/Hgo3qoTxno

— Francesco Gabbani (@frankgabbani) 11 May 2017
La bandiera italiana è portata da Francesco Gabbani con "Occidentali's Karma", che i pronostici danno come favorito per il podio. Comunque vada, a vincere ancora una volta sarà la musica capace di unire, e abbattere ogni frontiera dentro e fuori dall'Europa, grazie alle note della diversità.
I finalisti
Austria – Nathan Trent – (Running On Air)
Bielorussia – Naviband – (Story of My Life)
Bulgaria – Kristian Kostov – (Beautiful Mess)
Croazia – Jacques Houdek – (My Friend)
Danimarca – Anja – (Where I Am)
Israele – IMRI – (I Feel Alive)
Norvegia – JOWST – (Grab The Moment)
Olanda – OG3NE – (Lights and Shadows)
Romania – Ilinca ft. Alex Florea – (Yodel It!)
Ungheria – Joci Pápai – (Origo)
Armenia – Artvik (Fly with me)
Australia – Isaiah (Don't come easy)
Azerbaijan – DiHaj (Skeletons)
Belgio – Blanche (City Light)
Cipro – Hovig (Gravity)
Grecia - Demy (This is Love)
Moldavia – i Sun Stroke Project (Hey Mamma)
Polonia – Kasia Mos (Flashlight)
Portogallo – Salvador Sobral (Amar pelos dois)
Svezia – Robin Bengtsson (I can't go on)
Alla finale prendono parte di diritto cinque Paesi, oltre all'Ucraina, paese ospitante
:
Francia – Alma – (Requiem)
Germania – Levina – (Perfect life)
Italia – Francesco Gabbani – (Occidentali's Karma)
Regno Unito – Lucie Jones – (Never give up on you)
Spagna – Manel Navarro – (Do it for your lover)
Ucraina – O.Torvald – (Time)