Ucraina, a Kiev tutto pronto per l'Eurovision Song Contest
Commenti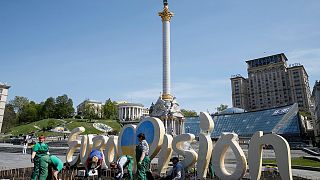 Fervono i preparativi in Ucraina in vista dell'Eurovision Song contest che si terrà nella città di Kiev il prossimo mese. La costruzione della struttura principale dove il 9 maggio si terrà prima la semifinale è già stata completata e mostrata ai giornalisti. Il palco si trova all'interno del Kiev Exhibition Centre ed è stato realizzato da Florian Wieder, che in qualità di stage designer, ha curato l'allestimento di altre tre edizioni della gara canora.
Do you have a question for one of these #ESC2017 artists? Let us know in the comments below and we'll do our bests to get them to answer it! pic.twitter.com/gixgyGkE9J

— Eurovision (@Eurovision) 28 aprile 2017
Ola Melzig, il responsabile della produzione spiega l'ispirazione dietro al progetto di quest'anno, scelto non solo perchè enfatizza la profondità dello spazio, ma anche perchè ricorda il costume tradizionale ucraino.
La capacità totale della struttura è di 8.000 spettatori, per chi non avrà la possibilità di accedervi, ci sarà la Fan Zone il cosidetto Eurovillage che verrà allestito direttamente nelle strade del centro della città.
The stage is complete. Tomorrow we'll have the first technical rehearsals.#Eurovision is closer than it seems ✨ pic.twitter.com/QgMkJ55IY5

— UA:ESC (@esc_ua) 19 aprile 2017
Per risolvere il problema di come raggiungere l'evento, le autorità di Kiev hanno promesso di inaugurare un servizio di trasporto su acqua in grado di portare i visitatori dal centro della città all'area principale.