Il Segretario ONU Guterres dai profughi siriani: "Il futuro siete voi"
Commenti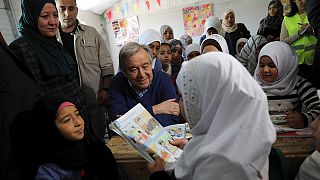 In visita al campo profughi giordano di Zaatari, il segretario generale delle Nazioni Unite lancia un nuovo appello per la pace in Siria. Antonio Guterres ha in particolare ispezionato un progetto ONU che dà lavoro alle donne ospiti del campo, con l'obiettivo di prepararle al reinserimento professionale che potrà seguire la fine delle ostilità.
UNSG @antonioguterres meets the powerful TIGER girls in @ZaatariCamp "You'll be the ones reconstructing Syria; study hard & be ready for it" pic.twitter.com/oN6a5xtPLq

— UNHCRJordan (@UNHCRJo) 28 marzo 2017
"Ci vogliono più donne al governo, più donne nelle amministrazioni locali, più donne nelle imprese – ha detto Gutierres -. E, inshallah – con la pace in Siria, potrete dare un contributo molto prezioso al vostro paese".
Nel corso della, Guterres ha anche assistito a una lezione di inglese, dispensata alle ospiti del campo.
During a visit to ZaatariCamp</a>, <a href="https://twitter.com/antonioguterres">antonioguterres sits in on English lesson at UNICEFJordan</a> school. <a href="https://twitter.com/UnitedNationsJO">UnitedNationsJOpic.twitter.com/sxqVovc1zk

— UN Spokesperson (@UN_Spokesperson) 28 marzo 2017
"Accantonate le rivalità, la Siria ha bisogno di noi"
"Sustained and significant support for the Syria crisis is more crucial now than ever before." @AntonioGuterres@UNhttps://t.co/pajeOUplDi

— UN Refugee Agency (@Refugees) 28 marzo 2017
"Un sostegno importante e significativo per (ndr: gestire) la crisi siriana è ora più cruciale che mai", ha twittato il Segretario Generale dell'

ONU

, Antonio Gutierres, durante la sua visita al campo profughi di Zaatari
Guterres ha poi esortato i paesi arabi a mettere da parte le loro rivalità e ribadito che la loro unità è "un elemento molto importante" per riportare la pace nella regione e offrire un futuro ai rifugiati siriani. Alle spalle anche un'esperienza di 10 anni da Commissario per i rifugiati, l'oggi Segretario Generale delle Nazioni Unite ha inoltre lanciato un appello a moltiplicare gli sforzi per arginare la crisi siriana. "La sua durata nel tempo ha alimentato il terrorismo internazionale", ha detto, aggiungendo che, nell'attesa di una soluzione politica, l'incremento nel sostegno agli aiuti umanitari è quindi nell'interesse degli stessi paesi donatori.