Siria, i curdi strappano all'ISIL lo scalo di Al-Tabqa
Commenti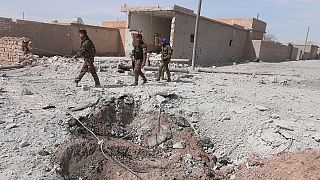 E' ormai entrata nel vivo la battaglia per la conquista di Raqqa. I curdi avrebbero ripreso il controllo dell'aeroporto militare di Al-Tabqa.
#SDF says it has occupied Al-Tabqa airbase near #Raqqa. #Syria

— Kevork Almassian (@KevorkAlmassian) March 26, 2017
Le forze democratiche siriane, appoggiate da quelle della coalizione a guida statunitense, hanno fatto irruzione nello scalo. Secondo il portavoce dello schieramento, in tutta la zona sarebbero in corso violenti scontri con i jihadisti dell'Isil.
#Raqqa video shows US warplanes "US AC-130" bombing the Euphrates dam in #Tabqah in the night #Syria#ISISpic.twitter.com/IL5LPMtNzs

— الرقة تذبح بصمت (@Raqqa_SL) March 26, 2017
Secondo l'Osservatorio per i diritti umani siriani, da ieri, a Raqqa non c'è più corrente elettrica. Da giorni si segnalano numerosi raid contro obiettivo dei miliziani, bombardamenti che hanno colpito la zona vicino alla diga sull'Eufrate e controllata dal 2014 dall'autoproclamato Stato islamico. Proprio qui sembra si nascondino diversi leader del Califfato, forse anche lo stesso Al Baghdadi.
VICTORY – joint US Special Operations retake vital #Tabqa dam from ISIS, next stop #Raqqa, by JohnSjoholmLC</a><a href="https://t.co/LG5qTmyJt7">https://t.co/LG5qTmyJt7</a> <a href="https://t.co/dZDQQB7Lwt">pic.twitter.com/dZDQQB7Lwt</a></p>&mdash; LIMA CHARLIE NEWS (LimaCharlieNews) March 27, 2017