Germanwings: il padre del copilota Lubitz: "mio figlio non era depresso"
Commenti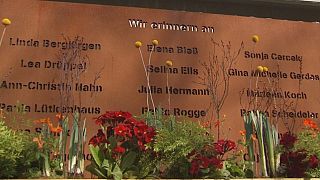 L'aveva promesso e l'ha fatto. Nel giorno delle commemorazioni per l'anniversario della tragedia della Germanwings, il padre del copilota Andreas Lubitz, a Berlino, tenta di riaprire l'inchiesta.
Remember the 150 victims of #Germanwings Flight #4U9525pic.twitter.com/NJYxWkacdS

— Marc Schroten (@bringback_cross) March 24, 2017
In una conferenza stampa, annunciata da giorni, e convocata per esprimere dubbi sugli esiti delle indagini sull'aereo caduto sulle Alpi francesi, arrivano le parole che hanno scioccato i parenti delle 149 vittime. L'uomo ha difeso ancora un volta il figlio, morto nell'incidente, dichiarando che non soffriva più di depressione da anni. Insieme ai suoi legali, ha voluto sottolineare di non aver scelto questa data, il 24 marzo, per ferire le famiglie delle vittime, ma solo per attirare maggiore attenzione su un caso che sarebbe tutto da rivedere.
Germany: 'Our son was not depressive' says father of Germanwings co-pilot https://t.co/HQxc9sme6Ppic.twitter.com/pCcSUxKl2e

— Knowledge is Power (@1KnowledgePower) March 24, 2017
Un esperto di aviazione assunto dalla famiglia Lubitz, per fare chiarezza sull'inchiesta, ha presentato un lungo rapporto, segnalando fra l'altro presunte lacune e imprecisioni degli atti dell'inchiesta. Nelle carte si legge che la chiusura del cockpit era probabilmente difettosa, oltre a sollevare dubbi su chi sedesse davvero nella cabina di comando.
It's two years today since Germanwings flight 4U 9525 crashed into the Alps, killing all 150 on board. https://t.co/FIz6geewRLpic.twitter.com/Yw5EvN6WCZ

— dpa international (@dpa_intl) March 24, 2017