Volo MH370, i familiari raccolgono fondi per le ricerche
Commenti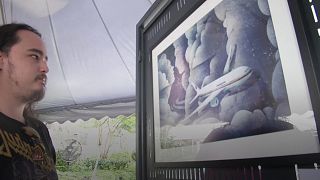 Nuova iniziativa dei familiari delle 239 vittime del volo Malaysia Airlines MH370, scomparso l'8 marzo 2014 e mai ritrovato. Tutti insieme hanno lanciato una campagna con l'obiettivo di raccogliere almeno 50 milioni di dollari di fondi per finanziare un'operazione privata di ricerca dei resti del velivolo.
MH370 families launch campaign to fund search for the missing jet https://t.co/8Lm4eZvIW1pic.twitter.com/JJdf6rIf9M

— Reuters Top News (@Reuters) March 4, 2017
"Le operazioni devono proseguire", dice questa donna che ha perso il marito in quella tragedia. Ci hanno spoegato che il motivo per cui sono state sospese tutte le ricerche è che ormai non ci sono più motivi per proseguire. Questo per le autorità. Invece bisogna coinvolegere più esperti per rivedere tutto quello che è stato fatto, per capire che cosa è andato storto su quel volo."
#MH370 families aim to privately fund search for missing aircraft https://t.co/DzgXGbfJ0Kpic.twitter.com/g55MBEoMsh

— dwnews (@dwnews) March 4, 2017
Le operazioni di ricerca, costate oltre 160 milioni di dollari, e coordinate da Australia, Malesia e Cina, si sono fermate lo scorso mese senza riuscire a identificare il punto dove l'aereo si inabissò.
MH370 – 3 years has passed. So many theories but no answer. Al-fatihah.
Family members stay strong. #MH370pic.twitter.com/ySPqb0CfVw

— seeingDforest (@norlail19457932) March 4, 2017