Django & Co: la Berlinale al via nel segno della politica (e di Donald Trump)
Commenti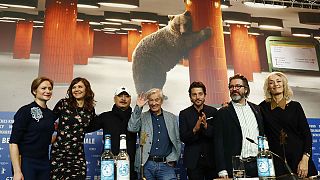 La minaccia del terrorismo che posa dei blocchi di cemento davanti allo Zoo Palast da una parte, l'ombra di Donald Trump che irrompe in cartellone dall'altra. Già tradizionalmente politico, il festival di Berlino che apre oggi i battenti lo è quest'anno ancora di più: gioco forza nelle atmosfere e sicuramente in un cartellone, che il direttore Dieter Kosslick definisce "la più forte risposta" alla nuova politica ultraconservatrice della Casa Bianca", ma anche in umori e timori della "fabbrica dei sogni".
"Donald Trump is more overrated than Meryl Streep."

- @Berlinale director Dieter Kosslickhttps://t.co/qAqVYF0ok8pic.twitter.com/4Z2qnK9Ri0

— DW - Culture (@dw_culture) February 9, 2017
L'ironia del direttore della Berlinale, Dieter Kosslick, in un tweet dei colleghi di Deutsche Welle: "Trump è più sovrastimato di Meryl Streep"
"L'industria cinematografica non sfugge all'incertezza politica del momento – dice Scott Roxbourough, dell'Hollywood Reporter -. Il cinema è un'industria veralmente globale, nel senso che si avvale di persone, di beni e di servizi, che devono potersi spostare liberamente da un paese a un altro. E tutto ciò potrebbe ora essere minacciato da alcune politiche di Donald Trump".
Great poster: RedaKateb will be #DjangoReinhardt in Etienne Comar's film DJANGO, opening the #Berlinale tonight.#DjangoLeFilm@PatheIntsalespic.twitter.com/ngdiIdiMJU

— Berlinale (@berlinale) 9 febbraio 2017
All'ombra dei grandi nomi, il festival che nel 2016 aveva lanciato la corsa all'Oscar dei migranti di Fuocoammare, dedica quest'anno un'intera sezione al tema dell'omosessualità, accoglie la denuncia di Gurinder Chadha dei massacri che hanno accompagnato l'indipendenza indiana e apre i battenti con il ritratto del padre del jazz gitano Django Reinhardt e il racconto delle persecuzioni che ha subito durante il nazismo, firmati dall'esordiente francese Etienne Comar.