Mirava a Boko Haram, colpisce un campo profughi. Caccia fa strage in Nigeria
Commenti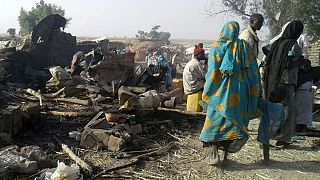 Un caccia militare nigeriano bombarda per errore un campo profughi nel nord-est del Paese, facendo decine di vittime tra sfollati e operatori umanitari. In base alle prime stime di ufficiali governativi e soccorritori i morti potrebbero addirittura superare il centinaio. Almeno 120 i feriti contati da Medici Senza Frontiere.
This large-scale attack on vulnerable people who have already fled from extreme violence is shocking & unacceptablehttps://t.co/qB2mHwu58Q

— MSF UK (@MSF_uk) 17 gennaio 2017
Su Twitter la condanna di Medici Senza Frontiere che denuncia come "scioccante" e "inaccettabile" questo "attacco di larga scala su persone che già erano fuggite da una violenza estrema
Con un'ammissione praticamente senza precedenti, l'esercito nigeriano ha riconosciuto l'errore e spiegato che l'obiettivo del raid erano postazioni di Boko Haram:
"Sfortunatamente il bombardamento ha avuto luogo – ha confermato un responsabile regionale -. Purtroppo a risultare colpiti sono stati dei civili che si trovavano nei dintorni. Questi sono i risultati della 'nebbia di guerra'. È deplorevole. Ed è per questo che questa guerra deve finire".
Il caccia che ha bombardato il campo profughi di Rann era in missione nello stato del Borno, roccaforte di Boko Haram nel nord-est del Paese. Ancora incerte le cause dell'errore.
1/3 We report with sadness that among the casualties of today's airstrikes in Rann 6 #Nigeria#RedCross@nrcs_ng were killed & 13 wounded.

— ICRC Africa (@ICRC_Africa) 17 gennaio 2017
La Croce Rossa Internazionale ha fatto sapere che nell'attacco 6 dei suoi operatori sono morti e 13 sono rimasti feriti. Senza quantificarle, anche Medici Senza Frontiere ha parlato di vittime nei suoi ranghi.