Ritorno alla guerra fredda fra Washington e Mosca
Commenti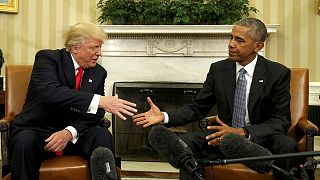 "Rinforzare ed espandere la capacità nucleare del Paese perché il mondo capisca". Non sono frasi prese da un libro di storia sulla Guerra Fredda, ma le ultime dichiarazioni del presidente-eletto Donald Trump . Un messaggio che il prossimo inquilino della Casa Bianca ha espresso attraverso le reti sociali e che giunge poco dopo la dichiarazione del suo omologo russo, Vladimir Putin, che ha esortato le forze armate a rafforzare il potenziale nucleare del Paese.
The United States must greatly strengthen and expand its nuclear capability until such time as the world comes to its senses regarding nukes

— Donald J. Trump (@realDonaldTrump) December 22, 2016
Putin ha detto che le forze strategiche convenzionali debbono essere portate a un nuovo livello qualitativo che permetta di neutralizzare qualsiasi minaccia contro la Russia.
Così Putin: "Possiamo affermare senza dubbio che oggi siamo più più forti di un qualsiasi aggressore potenziale. Detto questo, se ci rilassiamo anche solo per un attimo, le cose potrebbero cambiare".
Lo scorso luglio la Nato ha approvato il disiegamento di quattro battaglioni multinazionali fino a 1000 uomini ciascuno in Estonia, Lettonia, Lituania e Polonia di fronte a un possibile attacco russo.