Alabama: Trump chiude il "Thank You Tour": "Adesso comincia il lavoro duro"
Commenti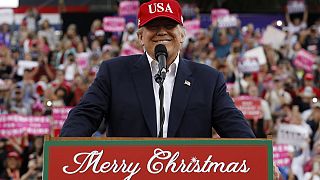 Donald Trump alla tappa conclusiva in Alabama del suo "Thank You Tour" che si è chiuso nello stesso stadio dove durante la campagna elettorale lo avevano seguito in 30mila. Dal palco il presidente eletto non ha perso l'occasione e ha risposo a Michelle Obama che in un'intervista ha detto "adesso sappiamo come ci si sente a non avere speranza".
"Probabilmente si riferiva al passato. Io credo che c'è un grandissima speranza, abbiamo grandi promesse da realizzare e potenziale enorme per farlo, stiamo per diventare un Paese di grande successo, saremo fantastici", ha detto Trump.
Thank you Alabama! From now on, it's going to be #AmericaFirst. Our goal is to bring back that wonderful phrase: #MadeInTheUSA! pic.twitter.com/O3RBYD2dT3

— Donald J. Trump (@realDonaldTrump) 18 December 2016
"Adesso comincia il lavoro duro" ha, inoltre, detto Donald Trump congedandosi dai suoi sostenitori. Il presidente eletto ha ormai completato la squadra di governo ed è pronto a iniziare il suo mandato che comincerà ufficialmente con il giuramento del 20 gennaio. Il "collegio elettorale" si riunisce lunedì per eleggere "formalmente" il 45esimo presidente degli Stati Uniti.