USA: Trump nomina Steven Mnuchin al Tesoro, Wilbur Ross al Commercio
Commenti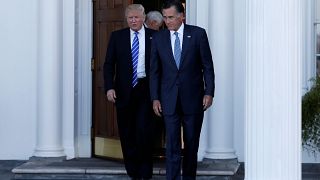 Steven Mnuchin
conferma di essere stato scelto da Donald Trump come segretario al Tesoro.
Il finanziere, con solide radici a Wall Street, è stato socio di Goldman Sachs e produttore cinematografico di film hollywoodiani come Avatar, prima di gestire i conti della campagna di Trump.
Ufficializzata anche la nomina del segretario al Commercio. È l'investitore miliardario Wilbur Ross, considerato il 're della bancarotta' per aver spesso rilevato aziende in crisi ma con buone potenzialità di profitto. Ross è contrario ai grandi accordi commerciali.
Ai Trasporti il presidente eletto ha scelto Elaine Chao. Di origini cinesi, moglie del
leader della maggioranza repubblicana al Senato, Mitch
McConnell, Chao era stata ministro del lavoro
durante l'amministrazione di George W. Bush.
Trump ha nuovamente incontrato Mitt Romney, probabilmente per convincerlo ad accettare la delicata poltrona di segretario di Stato, dopo che proprio la politica estera era stata terreno di scontro tra i due nei mesi scorsi.
"Ho passato una meravigliosa serata con il presidente eletto" ha dichiarato Romney al termine della cena.
If Trump had said 4 years ago the things he says today about the KKK, Muslims, Mexicans, disabled, I would NOT have accepted his endorsement

— Mitt Romney (@MittRomney) 3 March 2016
Intanto John Brennan, che dirigerà la CIA fino al 20 gennaio, dichiara in un'intervista che cancellare l'accordo sul nucleare iraniano, come Trump ha annunciato di voler fare in campagna elettorale, sarebbe "disastroso" e rappresenterebbe "il culmine della follia".
Brennan ha anche invitato il prossimo capo della Casa Bianca a diffidare dalle promesse di Mosca.
Dal canto suo, Trump fa sapere che sta riflettendo sulla questione del conflitto di interessi per le sue attività di famiglia.
"Il 15 dicembre terrò una conferenza stampa a New York con i miei figli – scrive su Twitter – per parlare di come lascerò completamente le mie grandi aziende per dedicarmi totalmente al governo del Paese."
Hence, legal documents are being crafted which take me completely out of business operations. The Presidency is a far more important task!

— Donald J. Trump (@realDonaldTrump) November 30, 2016