Terza notte di proteste negli Stati Uniti contro Trump: "Not my president!"
Commenti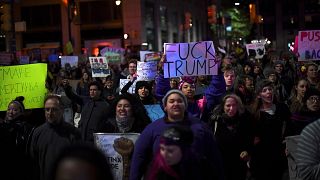 Non si placa l'onda di proteste in tutti gli Stati Uniti contro l'elezione alla Casa Bianca di Donald Trump. Per la terza notte al grido di "Not my president!" a New York circa 1200 persone si sono radunate Washington Square, nel quartiere del Greenwich Village. Un migliaio di manifestanti si sono riversati per le strade di Miami per chiedere a Trump di andarsene.
Anti Trump protesters in Downtown Miami blocking the highway #trump#protest#miamipic.twitter.com/oNRoGTdquz

— NJ (@nijat12) 11 November 2016
Il neoeletto presidente degli Stati Unuti prima ha accusato i media di "incitare" i dimostranti poi ha cambiato tono, lodando la "passione" che dimostrano verso il Paese.
Love the fact that the small groups of protesters last night have passion for our great country. We will all come together and be proud!

— Donald J. Trump (@realDonaldTrump) 11 novembre 2016
Trump comincia a cambiare le prime carte in tavola. L'Obamacare potrebbe sopravvivere in parte, ha detto nel corso della sua prima intervista al Wall Street Journal, spiegando di aver promesso a Obama di valutare i suoi suggerimenti in merito.
Il neoeletto presidente accelera sulla nuova squadra di governo. Alla guida del team di transizione ha messo Mike Pence, il vicepresidente eletto, che prende il posto del governatore del New Jersey, Chris Christie. Nel gruppo non mancheranno di certo i fedelissimi, tra cui l'ex sindaco di New York Rudy Giuliani in veste o ministro della Giustizia o di segretario di Stato.